Hedy Lamarr's 101st Birthday on 9 November 2015.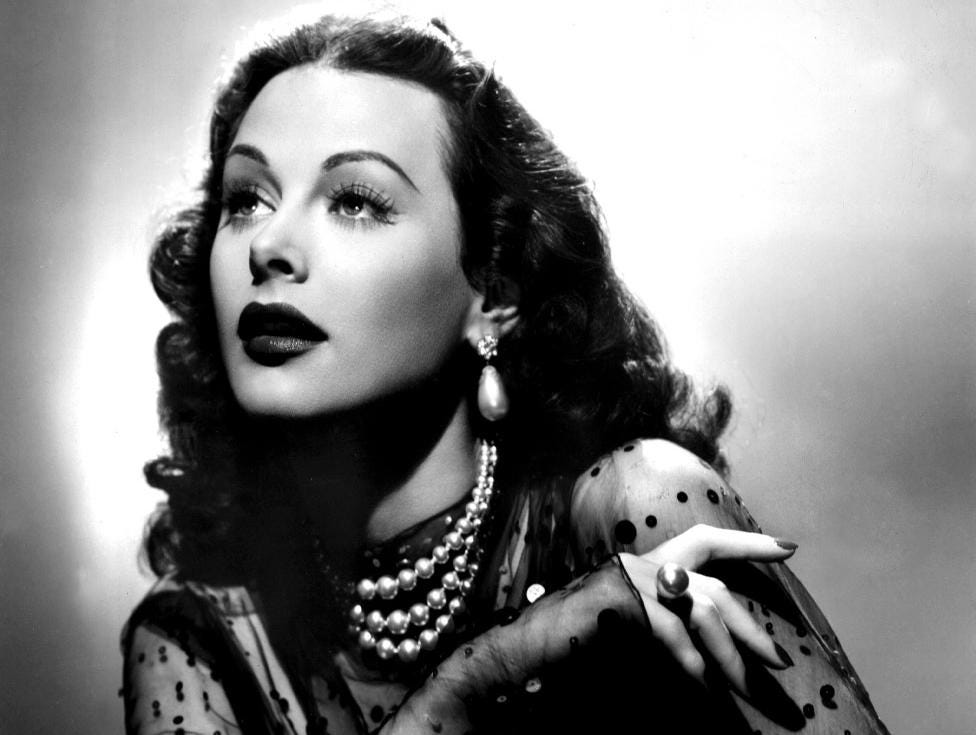 Born Hedwig Eva Maria Kiesler on 9 November 1914 to Jewish parents in Vienna, Austria, Hedy had married a wealthy arms manufacturer named Fritz Mendl.
Lemarr got her first leading role aged just 17, in a German film called Geld Auf Der Strase. A subsequent German film, Exstase, brought her to the attention of Hollywood producers, controversial for its time, Lamarr is also credited as acting the first female orgasm to be shown in a non-pornographic film. and she soon signed a contract with MGM.
Austrian-born actress Hollywood once dubbed "the most beautiful woman in the world."
Lamarr changed her name after fleeing her husband Friedrich Mandl – a rich military magnate, and moved to America. Reportedly Mandl was particularly controlling; the New York Times report he purchased a vast amount of the copies of Ecstasy in a bid that nobody would see "the look on her [Lamarr's] face during the sex scenes."
She had some background in military munitions and together with a composer friend, George Antheil, she used the principles of how pianos worked to identify a way to prevent German submarines from jamming Ally radio signals.
"She set aside one room in her home, had a drafting table installed with the proper lighting, and the proper tools - had a whole wall in the room of engineering reference books." and that, Biographer Richard Rhodes said, was where she "invented." It was a hobby that remained obscured in the shadow of her celebrity - one she rarely revealed, even to her own son, Anthony Loder: "She was such a creative person, I mean, nonstop solution-finding. If you talked about a problem, she had a solution.
The patent for "frequency hopping" Lamarr co-authored laid the groundwork for widely-used technologies like Bluetooth, GPS and wifi that we rely upon daily.
Lamarr and Anthiel received a patent in 1941, but the enormous significance of their invention was not realized until decades later. It was first implemented on naval ships during the Cuban Missile Crisis and subsequently emerged in numerous military applications. The US navy began using the device in the 1960s.
Most of Hedy's inventions - including a better Kleenex box and a new traffic signal - never really went anywhere. But her idea for that radio-controlled torpedo got a patent.
In 1997, she and George Anthiel were honored with the Electronic Frontier Foundation (EFF) Pioneer Award. And later in the same year, Lamarr became the first female recipient of the BULBIE™ Gnass Spirit of Achievement Award, a prestigious lifetime accomplishment prize for inventors that is dubbed "The Oscar™ of Inventing."
Most importantly, the "spread spectrum" technology that Lamarr helped to invent would galvanize the digital communications boom, forming the technical backbone that makes cellular phones, fax machines and other wireless operations possible.
She died in 2000, aged 85.
Sources:
http://www.hedylamarr.com/
https://www.google.com/doodles/hedy-lamarrs-101st-birthday
http://www.women-inventors.com/Hedy-Lammar.asp
http://www.cbsnews.com/news/hedy-lamarr-movie-star-inventor-of-wifi/
http://www.telegraph.co.uk/technology/google/google-doodle/11982699/Hedy-Lamarr-Google-Doodle.html
http://www.independent.co.uk/life-style/gadgets-and-tech/news/hedy-lamarr-five-things-you-didnt-know-about-the-actress-and-inventor-in-todays-google-doodle-a6726866.html